Mr Legoman, who has been with us from the start of our journey, now feels safe to come out and enjoy the trip. He has a walrus face and when we asked for a name back came John Lennon since he sang "I am a walrus"! Staying in the rope locker he felt trying to sneak out at night was become a bit of a bore. So now he's out and about.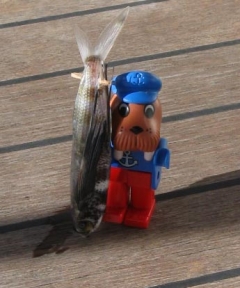 As you can see from the photos he is paying his way by fishing, quite a large catch for him, certainly the fish was as high as he is. There was a lot of huffing and puffing getting it on board. Now no comments that you recognise the fish as a small flying fish. He checks the engine on a daily basis (he has a degree in fixing stuff from the Kick Hard High School in Glasgow).
He is very good at reading, and often reads aloud to Kirsty. She particularly enjoys his diary telling what he gets up to when nobody is looking. He has quite a few stories, if anyone wants to know just send him an email via the blog..