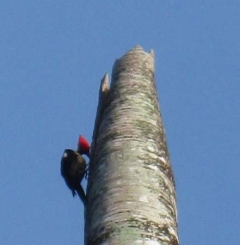 Time came to move on from the San Blas Islands and the Kuna Indians, and off to Colon we set, leaving with just enough light to get out passed the reefs and sail though the night to Colon. Our usual watch pattern I'm on watch from eight in the evening till midnight or there about then David takes over, usually till seven or eight. When we arrive close to Colon in the morning we had a hundred and fifty ships on the AIS, some were on the Pacific side of the canal, but there were still a lot of ships, majority were lying at anchor and as we passed them the alarm on the AIS was going bananas. In passed the breakwater we went, turned right and into the marina, yes we went into a marina, but its really the only option here now as the yacht club was bulldozed down a couple of weeks ago and there is now no safe place to leave your dinghy when going into Colon. Shelter Bay has everything you need in a marina, but some of the staff feel you are there to please them rather than the other way around, just another culture I guess. Put it this way if there was another marina, they would be empty. The surroundings are good, on the outskirts of a park, well away from Colon itself, but with a bus that takes you into the city twice a day. We have our trip into Colon to complete customs and start the process for canal transit. Lots of cruisers use an agent to do this but we prefer to complete it ourselves, much more fun to do. You certainly see whats really happening, Colon is a city to miss if your travelling through Panama. However we had an interesting time and would do it again, well we will have to we need to go back and sign out. All formalities done we visit the admeasurers office, we have our visit from them the next day, now we pay the fees for the transit, book a time and get ready to pass though this amazing piece of engineering.
David has been busy with the rudder for the wind pilot, I've enjoyed trips into town shopping again all food shopping though. Trying to stock up for the next long trip first Galapagos then right down to New Zealand arriving there around November time,. So far we have done really well on the food front, the fresh vegetables we buy last a good length of time provided they are really fresh and have not been chilled. Going off order is first lettuce followed by cucumber then surprisingly carrots, which go rubbery. Celery courgette, aubergine tomatoes (if you buy some green tomatoes they last longer) hard cabbage onion and sweet potato are the last to go off but we have never got that far. However on the passage from Galapagos to Marquesas Islands they might, will keep you posted. Meat wise, fresh for as long as it will keep, then vacuum packed, then tinned. Dried fish is good as it last for a great length of time. In theory you should always have fresh fish. Eggs last well if they have not be chilled and you cover them with Vaseline. Dried or tinned ready cooked pulses are great for throwing into meals, and giving the extra protein.
So meals are dictated by what's in the cupboard. Salad great the first few days out of port, then we go on to coleslaw, meat meals start off looking like meat but by the time you get to tinned the meat is more disguised. Quick and easy sauces are worth doing to jazz things up. Yogurt is easy to make and can be used in lots of meals. Generally we eat well and keep fairly close to our diet.
(links below load sound tracks – suggest right click and open in new tab)
But before we go, there was something I wanted to do. I wanted to see parrots in the wild and here I was told was a good spot. The first short trip, late in the afternoon was around a loop on a palm lined tarred road. Almost instantly we spotted a crimson crested woodpecker followed quickly by some very noisy toucans . We couldn't believe our luck, more toucans and a pair of parrots but they had flown by too fast.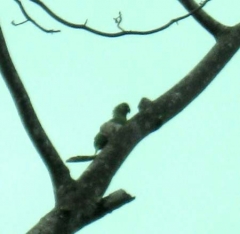 Dusk was on us and we returned to the marina before the smaller flying silent creatures attack me! Our second trip started earlier in the afternoon but after the heat of the sun had gone, a brisk walk over the air strip around the burn and off down the road, there was a lot of noise
from monkeys
but not a lot of bird life to be seen, we took a track off the tarred surface through the bushes, looked up and there were two parrots sitting in the tree, just chillin. Further down the track a branch moved and there was a male monkey growling and moving away, we stayed still and watched as he moved from branch to branch and
heard him join his group
. We wandered back up the track and saw our parrots fly together and land quite close. It was such a treat to see
and hear them
so close. Another little very blue bird watched as we went back towards the marina, there was a terrible noise coming from a tree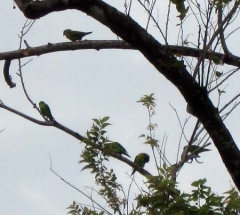 , not the tree but the many birds on it,
parakeets this time
, lots of them, a spotty back woodpecker (proper name I don't know, although one of the finches said they called him Shovel). Lots and lots of Finches, sorry to all the bird lovers out there don't know which ones they were. I was happy, parrots, parakeets woodpeckers finches and a monkey.
Why did they call the woodpecker shovel? I hear you ask, because of the number of holes he made for himself.
Now like Christopher Robin I want to know what will amuse me tomorrow.