Had a great few days sailing up to Antigua. Including a real blast into Antigua from Deshaies on the NE corner of Guadeloupe in 25 to 30 knots of wind.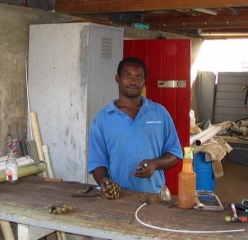 The maintenance we had scheduled for St Lucia I am doing here in Falmouth harbour. All the key people are within a short dinghy ride! Experts in Lewmar cars and hatches, experts in Hurth gearboxes; Julian and Sammy, the masters of 247 water pumps for the watermaker, Air cylinder re certs to name a few. Oh the helpful Gale at the chandlery as well.
I have been through the photo galleries and added comments to all the current world trip. Even sorted out some of the older stuff – enjoy.
(Click on photos for larger version with comments)
David